We have introduced an additional mandatory KYC requirement. Kindly complete "upload image of yourself with ID Card" during login.
×
What is Litecoin ?
Litecoin is a cryptocurrency that is nearly identical to Bitcoin with the exception of much lower transaction fees and up to 4x the transaction speed of Bitcoin.
How Litecoin works ?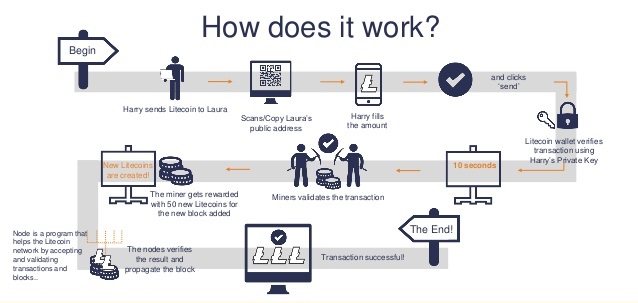 How it is different from Bitcoin?
On the surface, Bitcoin and Litecoin share a lot in common. Litecoin uses Scrypt algorithm that is ASIC resistant. Apart from that the differences are as follows
| Differentiators | Bitcoin | Litecoin |
| --- | --- | --- |
| Blocks | 10 mins per block | 2.5 mins per block |
| Supply | 21 million coins | 84 million coins |
| Block Rewards | Halved every 2,10,000 blocks | Halved every 8,40,000 blocks |
| Creator | Satoshi Nakamoto | Charlie Lee |
| Date of Launch | 3rd January, 2009 | 7th October, 2011 |
X----------X--------X